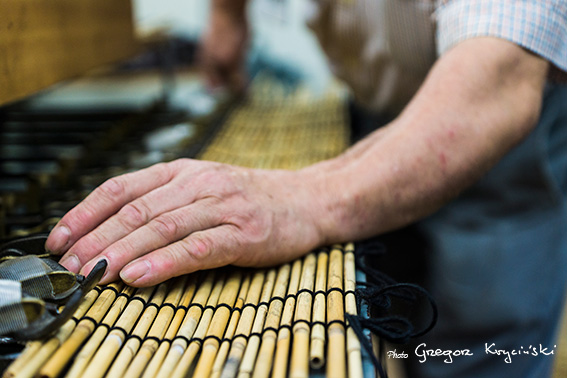 Sudare goods
Table runnr / Place mat / Teatime mat /


---
---
Interia Sudare

It is made with the natural colour of bamboo
and the combinations of freely knitted thread.
The materials: Bamboo, natural organic material, cotton thread and linen.
The width of the bamboo: 2,600mm or 1950mm at the most.
The width of the natural organic material:
from 955mm, 1050mm or 1800mm No specific height.5 types
from A-E the price differs with the types.

It is mainly for the stores.丂
Like the name IRODORI (meaning 乬colourful乭 in Japanese)
it increases emphasis of the room with its乫
beautiful colour. Traditional bamboo blind with spice of colours.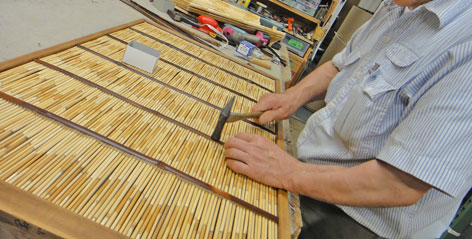 Sudare goods : Sudare Box
The catalog can be downloaded.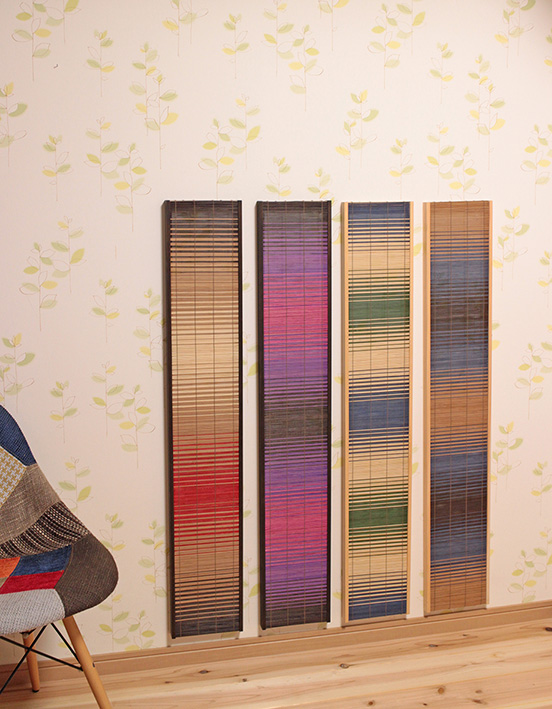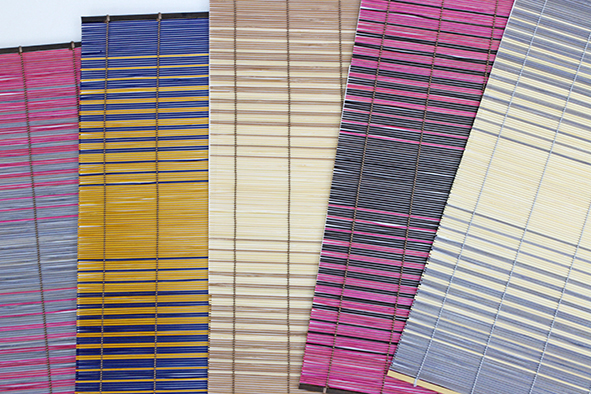 Exterior Sudare

Sudare is as partition, sunshade or interior.
Material bamboo/reed/cattail/cotton weed/
thread /linen
14-3.KATAHOKO,CHIHARA,
CHIYOKAWA-CHO,
KAMEOKA, KYOTO ,JAPAN
zip-code 621-0052

TEL +81-771-22-6833
FAX +81-771-22-6835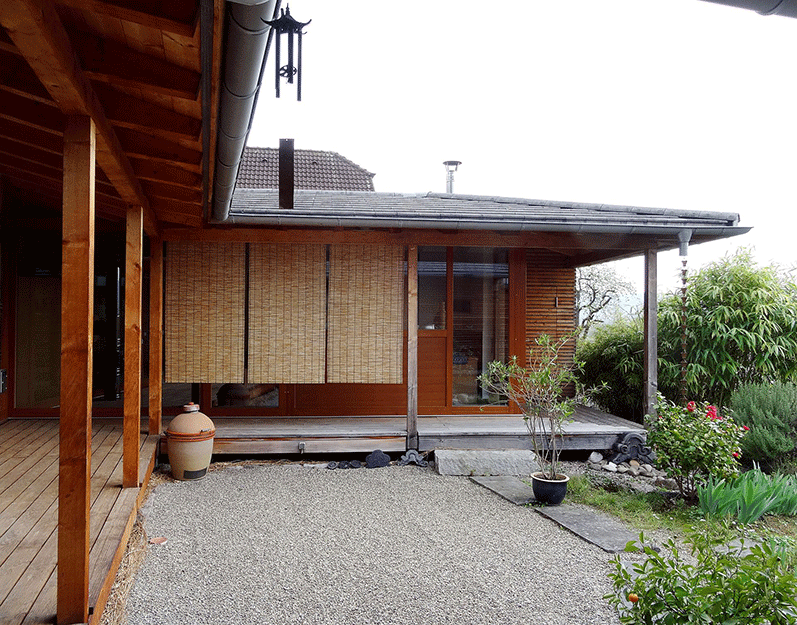 Furniture fitting the sudare / Sudare-door

Can be fit the Sudare to the door and partition.
It is possible to use the sudare to a variety of furniture.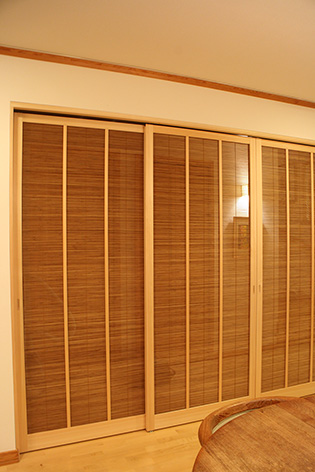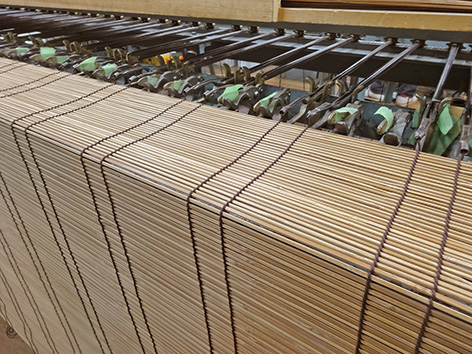 Organic-sudare

It is made with the natural colour of bamboo
and the combinations of freely knitted thread.

It is Sudare can feel the nature of color.
Misu

The oldes shape of Sudare is Misu.
It sppeared in the picture scroll of famous"Tale of the Genji"
material:Bamboo thread:cotton hemstitching:silk, rayon and more
tassele:hemp and silk and rayon
Materials and Craftman(Otoji Kawasaki)

Sudare Blind are made of slats of bamboo, reed, wood or other natural material,
and it is wove togetherwith cotton or hemp string.
As for the making, a piece of bamboo is whittled until will be athinner stick.
The craftsman make that sticks uniform size,
and weaves bamboo or reed Sudare Blind.
The exteriorSudare blind is made of reed, and wove together with hemp thread.
The interior Sudare blind is made of bamboo, and wove together with cotton thread.
Our elaborate brand "Kyo-Sudare"is made by hand
and do not admit of mass production.
The craftsman(Mr.Otoji Kawasaki)has an experience in 50 years.
His skill keeps their durability high.
But Sudare of present-day can be made cheaply in other place,
but their durability is so poor.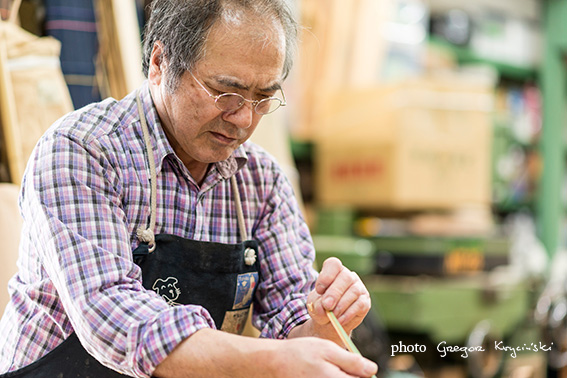 History of Sudare Blinds

Sudare is blinds or screens .Sudare has very old history.
It is a cool product, which has been used for1400 years in Kyoto.
At that time neither a door nor a wall was in the residence of the nobles.
Therefore, a room was partitioned with sudare instead of the door.
The sudare which partitioned anoble's room was called "Misu"
.Misu was a Sudare that dressed up with the gorgeous slik, goldembroidery,
and tasseld at imperial residence.
So, Sudare made progress at Kyoto, and kyo-Sudare ismost traditional
and elaborated top brand.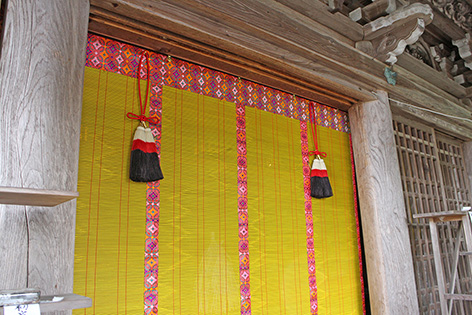 14-3.KATAHOKO,CHIHARA,
CHIYOKAWA-CHO,
KAMEOKA, KYOTO ,JAPAN
zip-code 621-0052

TEL +81-771-22-6833
FAX +81-771-22-6835